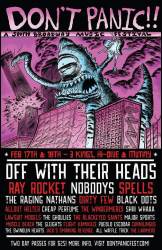 MOSTLY HARMLESS PODCAST
DONT PANIC FEST
http://www.dontpanicfest.com
Off With Their Heads 11:45 SPELLS 11:00 - 11:30 NOBODYS 10:15 - 10:45 The Raging Nathans 9:30 - 10:00 Major Sports 8:45-9:15 Cunnilingus 8:00 - 8:30
Time: 6:00pm Day: Saturday Doors: 5:00pm Ages: 21+ Ages
This Event Has Ended
Are you ready? It's cold in February, but we're going to heat up your favorite venues with a celebration of some of the finest Colorado Punk rock, Garage & hardcore bands, while inviting a few of our favorite nationals with Don't Panic Fest!
Our website is LIVE at http://www.dontpanicfest.com! 
RSVP at: https://www.facebook.com/events/1807839672790326/
There are a LIMITED number of two day passes available for $25, with individual shows costing $12. Individual shows go on sale in January.